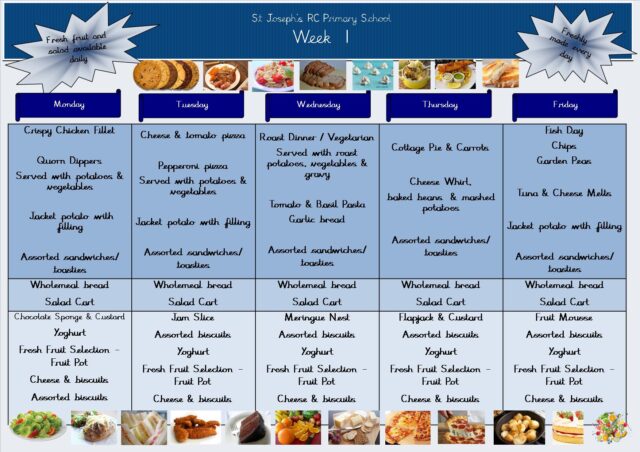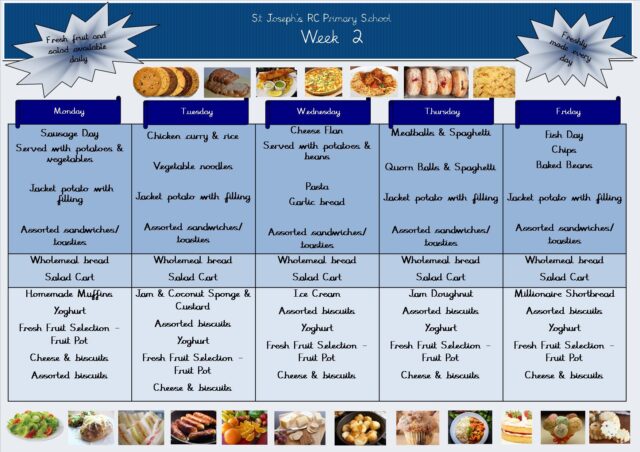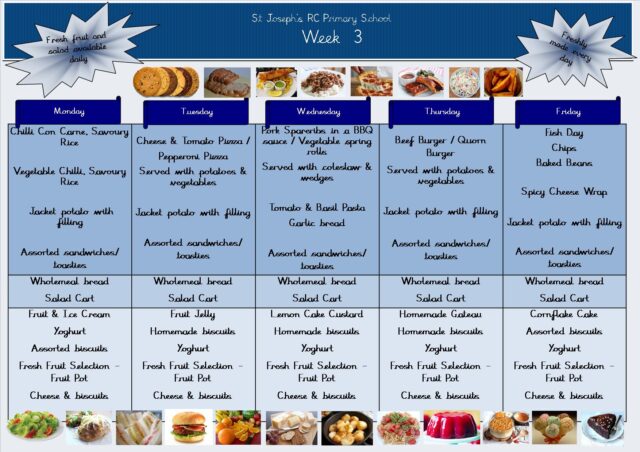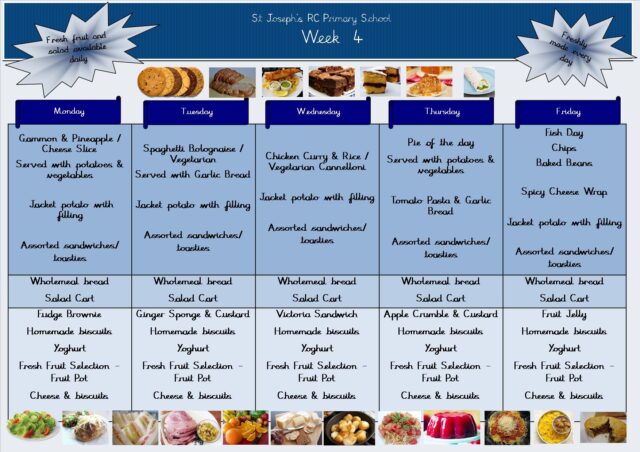 This our school menu on a 4 weekly rotation basis. There is a variety of fresh daily cooked meals including vegetarian and non vegetarian options. Alongside a choice of sandwiches, salads and desserts.
Children can bring in packed lunches. We advise this needs to be healthy.
All children in Reception, Year 1 and Year 2 are entitled to Universal Free School meals, which are paid for by the Government.
Free school meals are available to some children according to family income. It is important to register for entitlement for free school meals, even if your child has a packed lunch, this is so we can receive additional funding (pupil premium) which we can use to help your child.
Children are entitled to free school meals if their parents, carers or guardians receive any of the following:
Income Support

Income based jobseekers allowance

Income related employment and support allowance

Support under Part VI of the Immigration and Asylum Act 1999

Guaranteed element of pension credit

Child Tax Credit (provided you're not also entitled to Working Tax Credit and have an annual gross income of no more than £16,190)

Working Tax Credit run-on – paid for 4 weeks after you stop qualifying for Working Tax Credit

Universal Credit – if you apply on or after 1 April 2018 your household income must be less than £7,400 a year (after tax and not including any benefits you get)
To find out if your child qualifies for free school meals, and for any help or advice, you could visit the Manchester City Council Website which has more information about free school meals. If you have any general questions about free school meals or for an application form, please ask us at the school office.
If you would like your child to have a school meal (if you're not entitled to FSM) you can also pay for this via ParentPay. It is £2.20 per day or £11 per week.
Please let the office know with at least 1 weeks notice if you change your meal preference as we order food in advance.